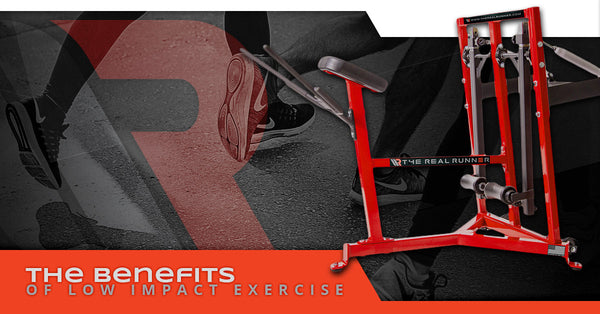 The Benefits of Low Impact Exercise
When it comes to fitness training, athletic training, and exercise in general, chances are you've heard the words "impact" and "intensity" a time or two.
These words, though both very important in their own rights, are not interchangeable. For example, you can have a high intensity workout that produces a low impact on your joints — such as with The Real Runner™ low impact trainer.
On the flip side, from time to time you will also encounter some low intensity workouts which actually produce a high amount of impact, such as light jogging for example.
The key to functional training and elite performance is striking the proper balance between the two. As an athlete, fitness enthusiast, or even just someone trying to improve their cardio and overall health, it's important to find the right low impact exercises which drive results with the right amount of intensity.
But why low impact? Low impact exercise can be beneficial for a number of reasons. If you're looking for a high-intensity, low impact cardio trainer which provides a full range of motion to develop strength, endurance, acceleration, and power, look no further than The Real Runner™. Shop today and see why low-impact exercise is the way to go.
Proven Performance Training
With low impact exercise machines like The Real Runner™, athletes get the opportunity to train efficiently and in a way that will target proven results through short intervals.
High intensity interval training (HIIT) is all the rage these days, and with good reason — it really works.
Low impact exercise through a HIIT cardio machine allows for strength building and power by simulating a runner's movements without the detrimental impact on the joints. Low impact exercise still allows an athlete to train for acceleration, power, and speed through resistance training without having to worry about injury or hyperextension.
The Real Runner™ still allows for assured muscular hypertrophy in the lower back, abdominals, hip flexors, hamstrings, quads, calves, shins, and feet. 
Our machine has helped collegiate, professional, and even Olympic athletes to achieve results and improve performance. 
No More Sore Knees
Low impact exercise is the best option for longtime runners who are tired of experiencing sore knees and general joint pain after exercise.
Through low impact training, runners still have the opportunity to take part in cross-training, improve cardio, increase endurance, and even maximize their speed and acceleration for when it matters most.
Whether training for a marathon or just looking for an alternative cardio fitness option, low impact exercise can be a great method for runners of all ages.
Widely Applicable
Another key benefit of low impact exercise is that it's applicable to a wide range of sports.
For instance, The Real Runner™ has helped athletes from several different disciplines to achieve peak performance through low impact, high intensity interval training.
Low impact exercise is great and advantageous for athletes in the realms of football, baseball, basketball, hockey, mixed martial arts, track and field, swimming, running, wrestling, and a whole lot more.
Other unique advantages of low impact exercise include:
Biomechanics
Rehabilitation after injury/arthritis
Physical therapy
Cross training
High Intensity Burns Calories
As was touched on above, just because an exercise is low impact doesn't have to mean it's also low intensity. With machines like The Real Runner™, low impact exercise is done the right way.
High intensity training carries a number of unique benefits of its own, not the least of which is that it tends to burn calories more efficiently. This leads to better cardiovascular health, sure, but it can also assist with efficient weight loss.
Through high intensity interval training, you can get proven results even with short bursts of output.
Get The Real Runner™
When searching for the best low impact exercise machine available, there's only one name you can trust: The Real Runner™.
The Real Runner™ is the world's first and best high intensity, low impact exercise machine capable of transforming the way you approach cardio and strength training.
Utilizing isokinetic resistance in both the flexion and extension of the runner's movement, our low impact exercise trainer can help athletes of all ages, sizes, and levels to improve performance, stride frequency, stride length, acceleration, power, speed, and more.
Buy The Real Runner™ today to see the advantages of low impact exercise for yourself and get free shipping on all orders over $99.